Awesome Tips To Get Fit and Stay Trimmer
Mistakes to avoid if you want a trimmer waistline
Ignite A Better Fitter Version of You             Tips  to release a better fitter you
"There are certain foods that can blast belly fat. Trying to lose the muffin top? You go, girl! Your health will certainly thank you for it in the long run. That's because fat stored around your mid-section is actually far more dangerous than fat stored on your thighs and arms.  Regardless of how much you slog it out in the gym, what you eat plays a major role in your success. So pop these foods on your next shopping list to whittle your waistline."
Roasted chickpeas
Chose healthier foods for your shopping list. Instead of crackers and  cakes, roasted chickpeas keeps you feeling full longer with fiber and protein  for muscle-building. You can buy them or make your own at home
 See more at BodyAndSoul
Wholegrain bread
Wholegrain bread is nutritious, providing long-lasting energy, gut-loving fiber and a range of vitamins and minerals.  Look for a dark, dense bread with visible grains and seeds
Moore at Image courtesy of: yummysmellsca
Fish
A fish fillet provides lean protein with low  caloric content. It is  perfect when you're trying to lose weight. The high protein keeps you full longer. It's  also associated with  loads of health benefits. An oily fish fillet such as sardines or salmon  gives added omega-3 benefits for heart health.
How to abort  cravings 
When you add legumes like chickpeas, beans, lentils  to your diet, cravings  diminish.  These  foods have added value . They are economical, rich in fiber and protein that keep you satiated longer. They make a great addition to a plant based diet.
"First, they are higher in beneficial nutrients such as fiber, plant fats, potassium, and antioxidants, and lower in potentially harmful nutrients such as animal-based iron, animal fats and nitrite preservatives,"
"Second, plant-based diets are also linked to healthier body weights, lower inflammation, lower risk of type 2 diabetes, better blood pressure and blood vessel function, and beneficial gut bacterial metabolites." "All of these factors translate into a
lower cardiovascular risk.
" Beans, chickpeas and lentils make for a tasty addition to meals,
their rich  fiber and protein energy combination
are great energy boosters.
Yogurt
For a quick  high protein choice food or snack , full fat  plain  greek yogurt  brings  in calcium to support strong bones and teeth.  Best stick to a plain full fat  Greek yogurt and if needed,  sweeten with fresh fruit, berries are  great additions. Look  for  yogurt  containing  "probiotic  with "good" bacteria to improve and regulate digestion. Getting one probiotic-rich food daily for healthy digestion would trim tummy fat long-term               "Researchers from the University of Manitoba in Canada led a study that fed one daily serving of yogurt to overweight volunteers. Half of the participants ate yogurt spiked with one of two bacteria. In a month and a half, those who had probiotic yogurt lost 3 or 4 percent of their body fat, depending on which bacteria they were given."
More at  probiotics foods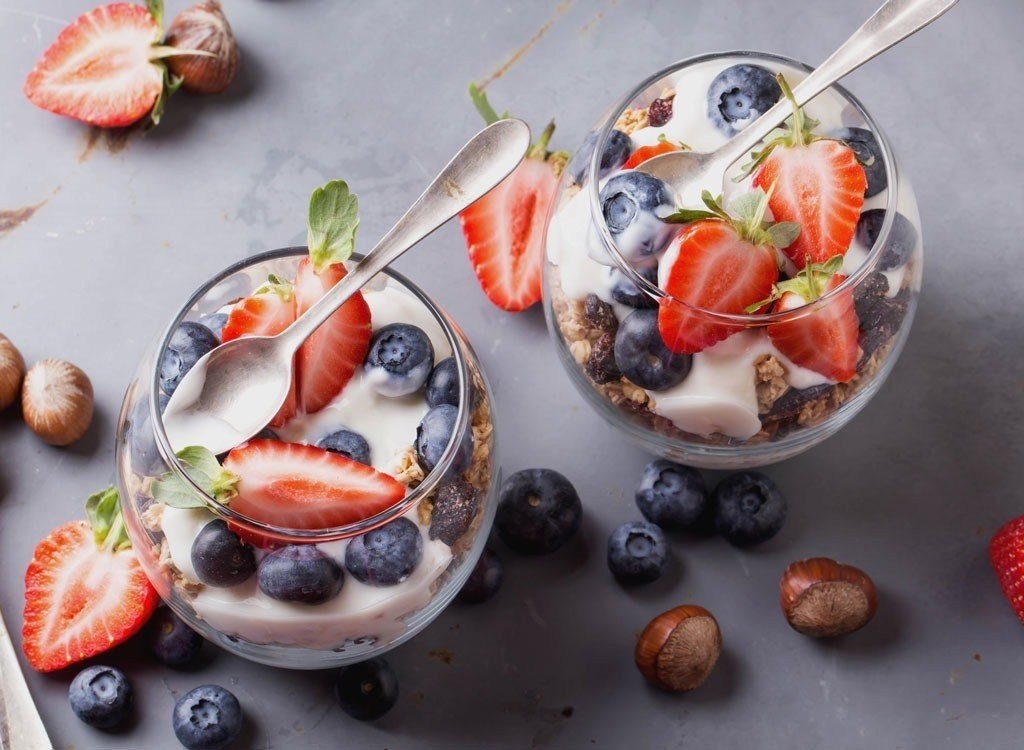 Nuts
A small handful of nuts a day is a good habit to get into with a healthy waistline in mind. Although they're rich in fat, research has actually shown that eating nuts regularly reduces your risk of being overweight. You'll be pleased to know that peanut butter counts, too.
Rolled oats
 If you place oatmeal as your last choice,  think of the convenience and nutritional value.  To make oatmeal more interesting or palatable look for creative recipes such as apple cinnamon baked oatmeal.  for a home bake meal. This recipe has extra fiber from the apple and  antioxidant value from the cinnamon.   Get good quality grain from rolled oats.
They provide  a combination of rich hunger-busting fiber and higher protein compared to other grains. This  keeps you feeling full and satisfied with added boosting energy and ability to focus a whole day.                                                                     See more at USING OATS IN CREATIVE WAYS
Fruit
Fresh fruit is perfect low caloric snack to satisfy a sweet tooth while keeping your calorie budget in-tact.  All fruits have  sugar.  Use  all fruits even bananas, mangoes figues, dates, avocado and watermelon. For certain fruits, best choice is organic  products. They're a bit more costly but that's worth all the the extra costs.  Organic apple for instance contains bacteria(Lactobicilli) that break down sugars. These are linked with strengthening the immune system ,healthy digestion and mental health.  To get get most out of organic apples  be sure to eat  a whole  a day including the core.  Latobicilli  generates an acidic environment that  protects against pathogens that promote diseases. Mix and match  high and low glycemic  to balance daily caloric intake if necessary.
Eggs
Eggs are  high protein  and nutrient-rich food for any time of day. Poach and serve them with toast at breakfast, boil and slice them for a salad at lunch, or bake them in a frittata for dinner . there's endless egg recipes that are light on calories for weight loss. Think of pairing foods that yield a greater
boost. Eggs is great source of arginine and high protein plus loads of vitamin.  Boost it with hot sauce to burn fat for more energy. Eggs fit with lunch, dinner, snack, and breakfast.
Water
Hunger pang may  mean that the body's signalling needs for water and  that you are thirsty.  Yet your body mistakes that for  hunger .
According to  Researchers "When you're dehydrated, before you become physically thirsty you will feel hungry, and often people mistake that," – Dr. Levine.
Recommendation is  best starting the day with an eight-ounce glass of water, then carrying a water bottle with you so you can get 1.5 to 2.5 liters throughout the day.
Choose plain water over sugary drinks
" Choose  plain water over sugary drinks, which can trick your brain into thinking you're always hungry, despite the extra calories you're sipping.  If your goal is weight loss and a trimmer fitter tummy,  skip  liquid  caloric intake. For a trimmer healthier  waistline  switch to water.  Ditch  the sugary juices, energy drinks and soft drinks.
Getting  the most out of your foods , mistakes to avoid!!  Should you add granola to your low carb diet?  Granola comes in a several varieties. Some offer more fiber than others. High fiber content slows  your digestion, keeping blood sugar stable longer while curbing cravings.To make a choice, it's best to read the  package labels to compare various products for total crab and sugar  plus the offered nutritional value.  take careful consideration for package, calories and serving size.
Breakfast foods that sabotage  your intentions and efforts.
 See more at www.honestnutrition.com.a
Photo By tedeytanImage courtesy of: tedeytan
Photo By antefixus21